The tools for smart on-site communication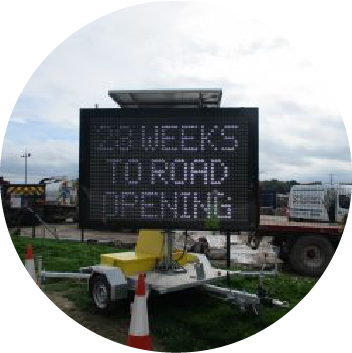 MVIS delivers portable, solar powered Work Zone Safety Solutions that offers users access to proven safety products that can enhance the safety of your construction work site.
Our solutions provide effective answers to many safety concerns on a construction or work site. We offer trailer based, solar powered ITS products such as portable variable message signs (VMS), portable CCTV, and data collection solutions that are secure, adaptable and cost effective.
Our portable VMS brings a whole new level to your site communications, allowing you to preprogramme messages or update them quickly and easily as things change. Signs are available in a range of sizes too, allowing you to choose products with a footprint suitable for sites where space is limited, or larger sites where the reach is larger.
Our VMS solutions have a range of applications on a work site, including:
On and off-site traffic management
Speed zone enforcement / speed activated messages
Clear communication of site safety information
Improved communication with the general public
Portable CCTV offers site managers the ultimate in safety and security, allowing for the monitoring and recording of site activity and incidents, even in low light.
We also offer a range of data collection solutions that can be used for applications such as safety surveying, traffic reporting or even helping site managers monitor and manage site speed, helping you through each step of the project cycle.
All our units are solar powered, temporary solutions that don't require any civils, external power or communications source and they are easy to access, change or monitor online. Being trailer based and portable allows them to be relocated to new areas of concern as the project develops.
All our products are manufactured by sister company Bartco UK and both companies have achieved the following accreditations:
ISO 45001:2018 Health and Safety Management
ISO 9001:2015 Quality Management
ISO 14001:2015 Environmental Management