MVIS are specialists in the rental supply & sale of portable, solar powered Intelligent Transport Solutions
Founded in 2012, MVIS Ltd are today the UK's most trusted supplier of trailer-based, solar powered technology such as Variable Message Signs (VMS), CCTV, ANPR and Data Collection solutions.
In conjunction with our sister company, ITS technology manufacturer, Bartco, our product range has been continuously developing since 2012 to meet changing legislation and market requirements, bringing numerous innovations to the market such as the Solar IP, that offers a trailer based solar power platform designed for integration with other technology.

---
Award Winning Customer Service
The MVIS customer support line is open 24/7, 365 days a year.
We have national coverage with strategically located depots throughout the UK, so we can continue to deploy our solutions quickly in times of emergency. From major High Speed projects, to inner-city works, urban works and events, we have developed a reputation in the industry for outstanding, platinum level service.
Our versatile team are fully trained in Health & Safety and as hiab and slinger signalers for delivery, installation and removal. Depending on their role on site, our workforce are also always present with the appropriate and relevant CSCS card.
We encourage our team to get involved with continual improvement through training, tool box talks and using the ISO system. This helps increase their knowledge that in turn raises the bar in the level of safety, job satisfaction and service they give.
As a result, we have one of the industry's best trained workforces and continue to support employees in training and qualifications, with no limit to their advancement. We ensure that our workforce are given the skills and hands-on training to deliver nothing short of excellence, meaning that is what you can expect from us.
Our staff form the very backbone of our company, each committed to providing outstanding customer service and support for our customers with zero exceptions. This is why our customers choose to TRUST MVIS to deliver – time and time again.
---
A Trustworthy & Responsible Supplier
MVIS have become a trusted asset in the industry when it comes to the delivery of safe, efficient VMS signs and ITS solutions onto the UK's roads.
Over the years, we've nurtured a collaborative and people-focused culture that we believe fuels innovation and service. This approach has led to us being recognised with industry awards as well as achieving ISO accreditations that together form an IMS (integrated management system):
Environmental Management, BS EN ISO 14001: 2015
Quality, BS EN ISO 9001: 2015
Health & Safety, BS EN ISO 45001: 2018
Internally, MVIS has a programme of Health and Safety training that is ongoing for every operative, in addition to externally completed Health and Safety training to ensure well-being across the board.
Our approach to Health and Safety makes us a trustworthy and reliable supplier for some of the most important schemes in the UK.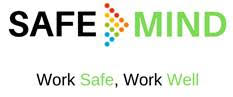 We take our continuing mission to be a socially responsible organisation very seriously. Our Corporate Social Responsibility focus prioritises efforts to give back to the world as it gives to us, and through our Safe Mind: Safe Body initiative, we encourage all staff members to always work in a safe manner, be it on site or in the office. Staff wellbeing is enhanced from the peace of mind that comes with knowing we have trained mental health first aiders, and a 'safety first' attitude for both on and off-site works.
---
Major Projects 2012 – 2020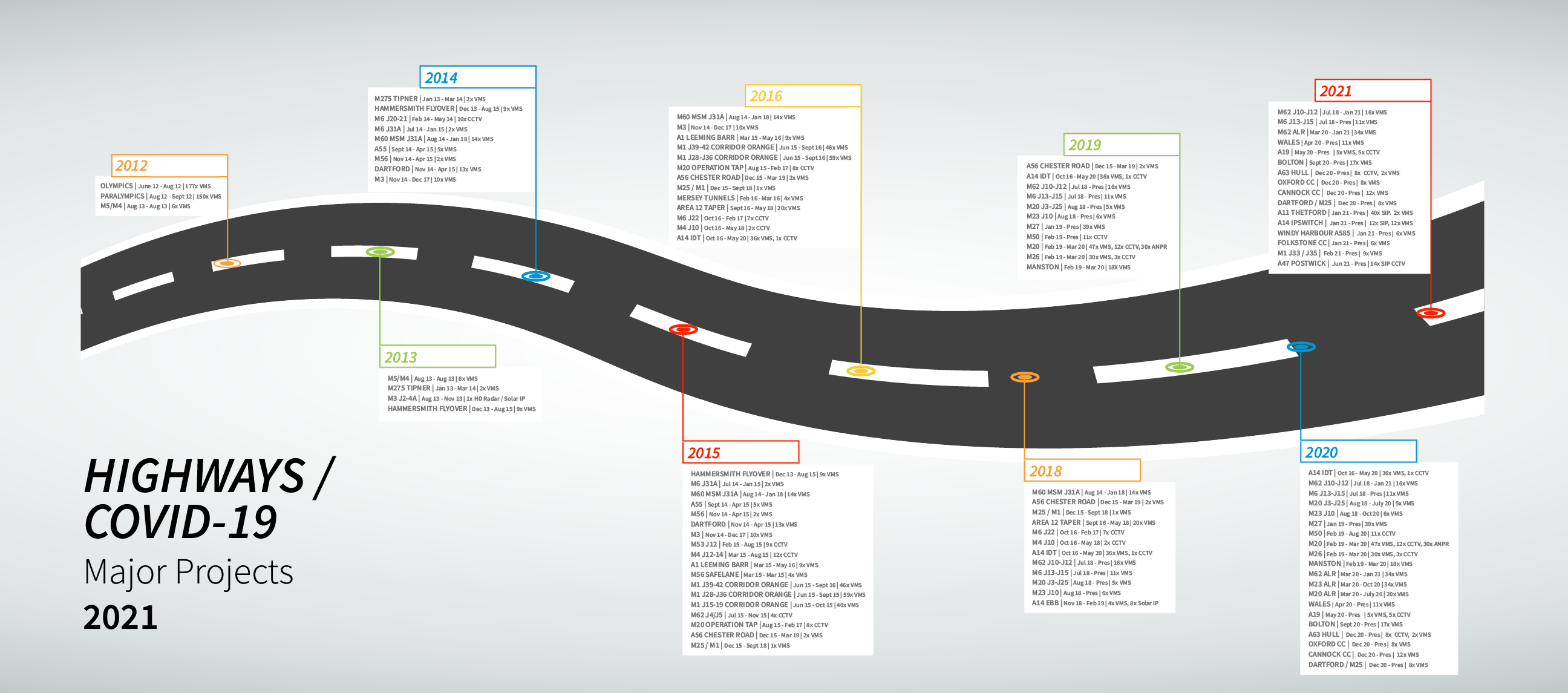 Due to our expertise in the high-speed arena, we are regularly called upon to undertake site visits to plan the number of units for major high-speed schemes, as well as where they should be deployed for maximum efficiency.
MVIS also boast the largest fleet of VMS in the UK, making us ideal suppliers for large projects.
Over the last 8 years we have been involved in, and had units being utilised on most major Highways schemes nationwide, often managing a few at any given time. These include:
M1 J16-J19, J23a-J25, J28-J35a, J39-J42
MSM M60
M27 J4-J11
M62 J10-J12
M20 SMP
M23
Oldbury Viaduct
A14 IDT
You can find out more information on our Case Studies page to see our products and solutions in action.
Alternatively, please call the MVIS team on 01629 580 570 or email us to speak to a member of our team.
Download Full 2021 Major Projects PDF
---
Major Projects Timeline
M25 / M1
1x VMS | Dec 15 – Sept 18
Area 12 Taper
20x VMS | Sept 16 – May 18
M6 J22
7x CCTV | Oct 16 – Feb 17
M4 J10
2x CCTV | Oct 16 – May 18
A14 IDT
36x VMS, 1x CCTV | Oct 16 – May 20
M62 J10-J12
16x VMS | Jul 18 – Jan 21
M20 J3-J25
5x VMS | Aug 18 – July 20
Paralympics
150x VMS | June 12 – Aug 12
A14 EBB
4x VMS, 8x Solar IP | Nov 18 – Feb 19
M50
11x CCTV | Feb 19 – Aug 20
M20
47x VMS, 12x CCTV, 30x ANPR | Feb 19 – Mar 20
M26
30x VMS, 3x CCTV | Feb 19 – Mar 20
Manston
18x VMS | Feb 19 – Mar 20
M62 ALR
34x VMS | Mar 20 – Jan 21
M23 ALR
34x VMS | Mar 20 – Oct 20
M20 ALR
20x VMS | Mar 20 – July 20
A19
5x VMS, 5x CCTV | May 20 – Pres
M62 J4/J5
4x CCTV | Jul 15 – Nov 15
Olympics
177x VMS | June 12 – Aug 12
M3 J2-4A
1x HD Radar / Solar IP | Aug 13 – Nov 13
M6 J20-21
10x CCTV | Feb 14 – May 14
M60 MSM J31A
14x VMS | Aug 14 – Jan 18
A55
5x VMS | Sept 14 – Apr 15
M3
10x VMS | Nov 14 – Dec 17
M53 J12
9x CCTV | Feb 15 – Aug 15
M4 J12-14
12x CCTV | Mar 15 – Aug 15
M1 J39-42 Corridor Orange
46x VMS | Jun 15 – Sept 16
M1 J28-J36 Corridor Orange
59x VMS | Jun 15 – Sept 15
M1 J15-19 Corridor Orange
40x VMS | Jun 15 – Oct 15
M20 Operation Tap
8x CCTV | Aug 15 – Feb 17
Dartford
13x VMS | Nov 14 – Apr 15
A14 Ipswitch
12x SIP, 12x VMS | Jan 21 – Pres
A11 Thetford
40x SIP. 2x VMS | Jan 21 – Pres
Cannock Chase District Council
A63 Hull
8x CCTV, 2x VMS | Dec 20 – Pres
Folkestone & Hythe District Council
A47 Postwick
14x SIP CCTV | Jun 21 – Pres