MVIS delivers portable, solar powered Work Zone Safety Solutions that offers users access to proven safety products that can enhance the safety of your construction work site.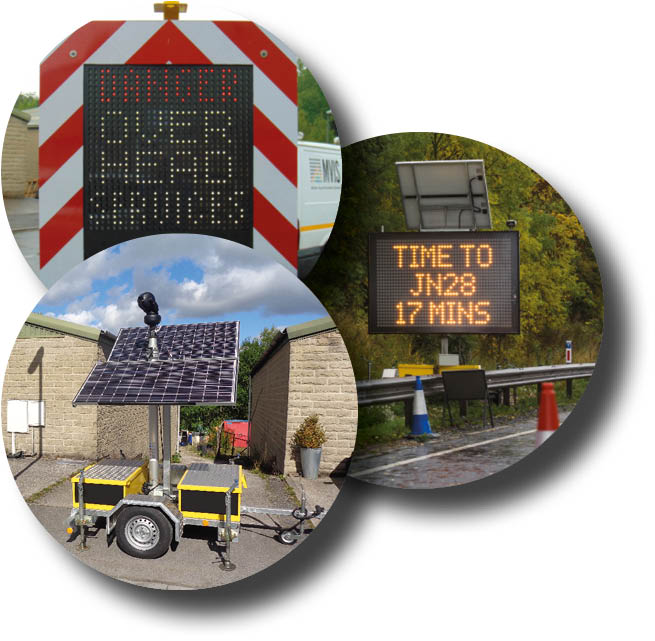 Our solutions provide effective answers to many safety concerns on a construction or work site. We offer trailer based, solar powered ITS products such as portable variable message signs (VMS), portable CCTV, and data collection solutions that are secure, adaptable and cost effective.
---

VMS C / VMS A
Tools for smart on-site communication
Featuring a 5-colour LED display for text or pictograms, the solar powered VMS A and the larger VMS C are ideal solutions for communicating important messages, updates and alerts which safely and effectively inform of changes or delays. Our Journey Time Solutions which can also be enabled means road uses can be kept up to date with delays and/or updates.
The 5-colour LED display can be used to emphasise emotive, impactful or direct messaging to influence and direct behaviour. Easy to update by our online or mobile app allow users to communicate complex and important notices to pedestrians and drivers alike.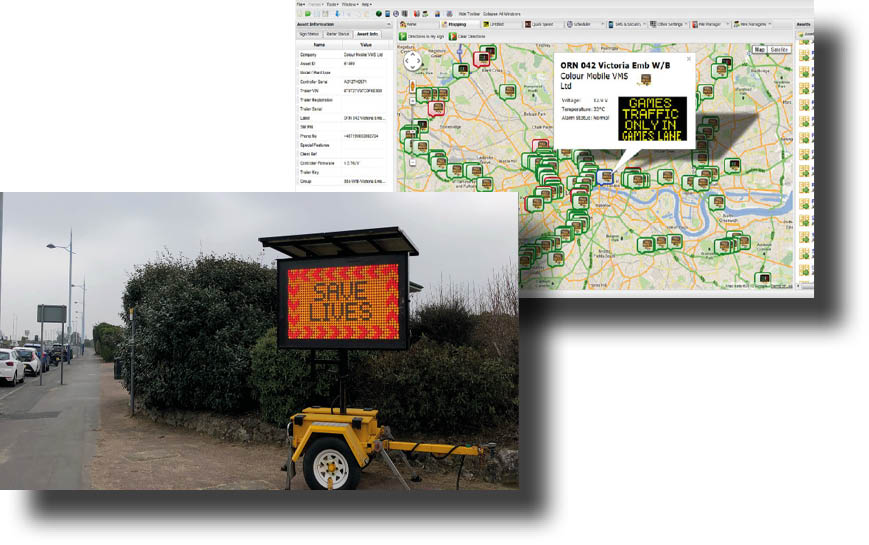 ---

Data Collection Solutions
Resource Allocation, Risk Management & Intelligence
Our Portable IVD (Individual Vehicle Data) radar serves as a traffic flow
monitoring solution for multi-lane real time data. Ideal for traffic profiling,
these radars can help provide intelligence that can inform on resource
allocation and help to identify areas of risk.
---

Portable Versatile SIP
Traffic Control, Enforcement & Intelligence
Our Solar Intelligent Platform (IP) are flexible and offer a responsive approach to traffic and live monitoring of roads and active lanes. Simple and cost-effective to deploy it requires no civils or external communications.
Traffic Monitoring Radar
Perfect for data collection, this solution uses proven enforcement grade radar & measurement techniques to track & measure speed, length, lane/direction of individual targets. Gathering detailed data in all weather conditions in order to provide traffic information including traffic flow, vehicle speeds and driver behaviour.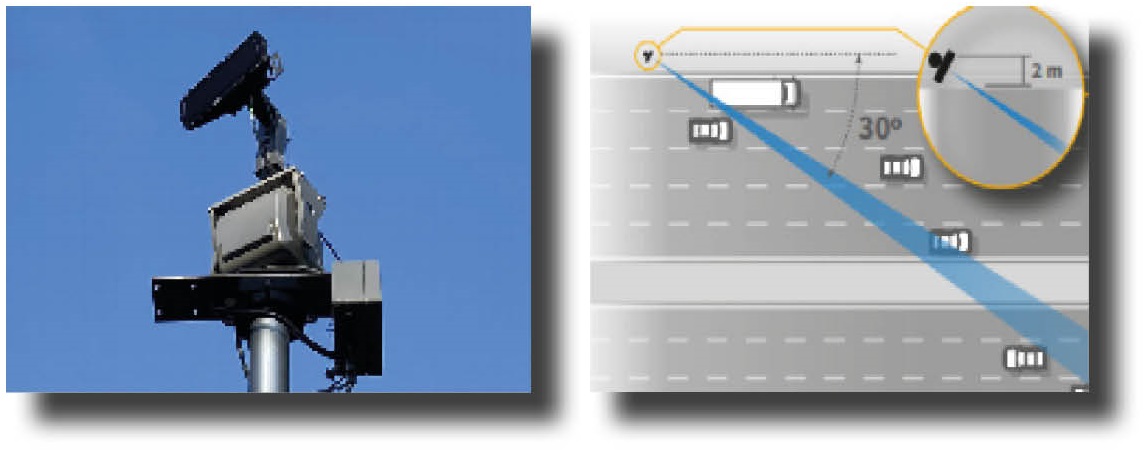 Portable Live CCTV
Our portable CCTV boasts low power demands, allowing it to perform to extended run times as a unit that is solar powered and has a much clearer image than seen in previous solutions on the market, even in low light.
Allowing users the ability to monitor sites, traffic and capture incidents, our CCTV is a low risk solution compared to having team members physically present on site.
---

HD Compact VMS
Urban Areas, Pedestrian Information & Crowd Control
Ideal for urban areas and pedestrians, the solar powered HD Compact VMS is our smallest portable VMS unit. The bright, red and white LED display boasts a 20mm pixel pitch and makes an impact anywhere.
Perfect for wayfinding, speed limits or important notices, the HD Compact offers a highly portable and easy to update solution for managing the movement and behaviour of pedestrians and on site employees.
For construction sites, other work areas or environments where space is limited, our smaller 2-colour HD Compact is a perfect choice for recording works traffic speed and volume, displaying text, pictograms and animated messages, just like the VMS-A and VMS-C.
Hidden cabling means this unit is secure from vandalism or accidental damage and also benefits from the data collection radar that is integrated in all of our signs.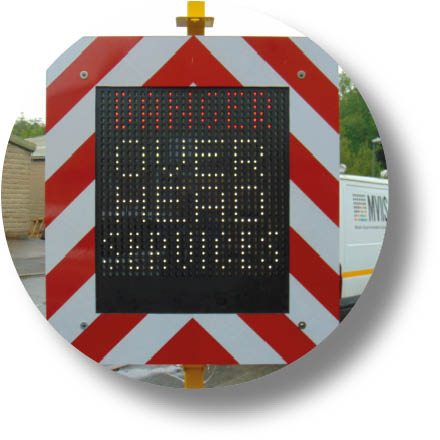 Overhead Service Unit
MVIS' Overhead Service Unit is positioned in advance of overhead structures and services where work is being carried out. The unit was developed to further enhance site safety for the workforce by using editable text or pictograms to warn in advance of overhead obstructions.
---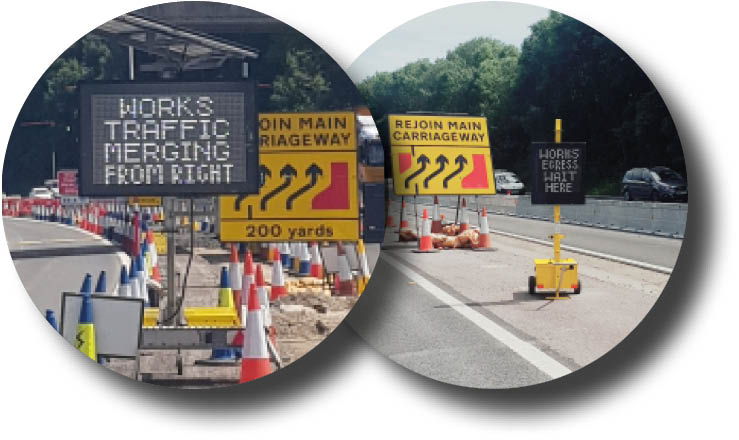 Works Egress
Ensures that drivers are notified when works traffic is exiting a work zone, on to the main carriageway
An HD Compact VMS unit is located at the beginning of the acceleration zone within the works area.
The integrated sensor in the HD Compact is triggered by the approaching works vehicle, presenting a message that instructs the driver to 'MERGE WHEN SAFE' or similar.
It also triggers a VMS A or VMS C to display a message to road users to alert them of works traffic joining the carriageway.
This sign is deployed before the works egress, facing the carriageway so that drivers have warning that a works vehicle is merging. Site managers can even add more information such as 'WORKS TRAFFIC MERGING 200YDS', for example.
When there is no works traffic merging, after a set time, both signs revert to a blank display, maximising reliability by saving battery life.