MVIS' HD Compact was the first of its kind, designed for use within work zones in order to improve safety and to communicate information to the public.
Developed in line with customer feedback and market research, the HD Compact offers the industry a light-weight, portable, solar powered message sign that features a dual colour (red and white) display.
This unit's small foot print and adjustable height makes it highly versatile, especially considering the display content can be updated remotely via our web-based portal or mobile app.
With hidden cabling, this unit is secured against vandalism or accidental damage and benefits from the data collection radar integrated in all our signs.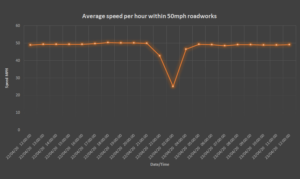 This makes our VMS a low-cost alternative to many data collection solutions on the market, offering a data source for the analysis of traffic trends and enabling greater intelligence for planning projects of all kinds.
These developments bring the HD Compact in line with our other solar powered signs, allowing us to offer a fully solar powered VMS range in different sizes.