Celebrating 10 Years of Graeme Lee
This week we're celebrating the 10 year anniversary of Graeme Lee, our Sales Director. Graeme is now the second member of the MVIS team to reach a 10 year tenure after Anne Ashman celebrated her 10 year anniversary last year.
Graeme joined MVIS in 2012 having already worked in the highways industry in sales. His existing knowledge and experience quickly saw him forming relationships with clients that have continued to develop over the last 10 years. Graeme's loyalty and dedication to the company has led him to become our Sales Director, where he oversees the Sales department with Customer Relations Officer, Juliette Wright.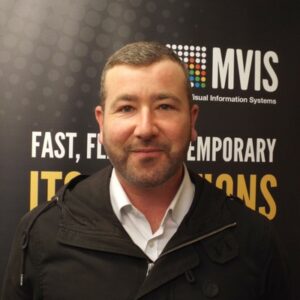 Highly skilled in sales, networking and maintaining relationships, Graeme is well respected within the industry and is often seen as the face of MVIS to clients and customers. During his time at MVIS, Graeme has amassed a number of career achievements that have formed a crucial part of our success and growth.
With years of vital experience in producing high-value tender submissions and working with high-profile customers from many different industries, Graeme has become an incredibly valued member of the team and a crucial component of our operations.
Anne Ashman, UK Group Operations and Commerical Director comments, "We are all very pleased to be celebrating Graeme's 10 year work anniversary this week. It's been a pleasure working with Graeme over the last ten years. Graeme's commitment and loyalty to the company is greatly appreciated and we are extremely lucky to have him as part of our team. Everyone at MVIS and Bartco UK thanks Graeme for his service and we look forward to many more years of him working with us."
Graeme Lee comments, "I am very proud to have reached a 10 year milestone here at MVIS. I started working in this industry over 15 years ago when it was the early days for portable VMS in the UK. In the time that I've been here, the industry has changed substantially but the "can do" mentality at MVIS has not changed. Every member of staff is crucial, and they are all prepared to go the extra mile."