MVIS are proud to announce our latest solution ideal for helping densely populated spaces (such as high streets) cope better with social distancing and traffic management under COVID-19 conditions.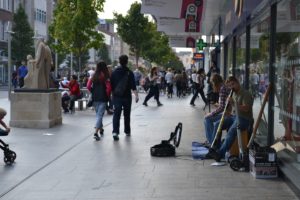 ---
Key Features
HD Compact: 28 x 28 matrix with 20mm pixel pitch, 560mm x 560mm display size
VMS A: 48 x 28 matrix with 28mm pixel pitch, 1344mm x 784mm display size
Ideal for text or pictograms
Low cost alternative to many data collection solutions
Solar powered, portable and easy to update remotely via a web based platform
24/7 support, assisting you with placement, deployment and content for the VMS
---
HD Compact Variable Message Signs
Our HD Compact VMS offers users a solar powered variable message sign (VMS) with a very small footprint, making it ideal for environments that lack space.
This unit's light weight and adjustable height makes it highly portable and versatile, especially considering the content can be updated remotely via our web-based portal or mobile app.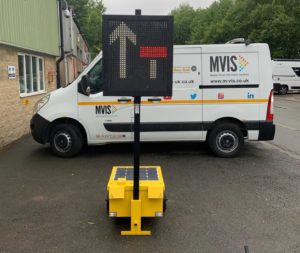 With a dual colour display (red & white), this unit is perfect for communicating safety information, instructions and closures with text or pictograms that can inform pedestrians and drivers.
This robust sign also boasts a solid design; with hidden cabling, the unit is secured against vandalism or accidental damage and benefits from the traffic data collection radar integrated in all our signs.
---
VMS-A
Like the HD Compact, the VMS-A offers users a solar powered, portable variable message sign that features many of the same key benefits.
Instead of a 2-colour display, the VMS A boasts a larger 5-colour display that can feature more complex messages but necessitates a slightly larger footprint than the HD Compact.
Ideally deployed for the closure of roads to allow staggered footfall, or to warn oncoming drivers of important alerts, the VMS A's effect is compounded when used in conjunction with the HD Compact, ensuring visitors to the high street are informed every step of the way.