MVIS Helps Bolton Council in COVID-19 Safety
With a difficult job on their hands, Bolton Council turned to Variable Message Signs (VMS) to help deliver the COVID-19 rules that are so important right now.
MVIS were chosen to deliver the vital safety signs which would go on to be deployed in Bolton City Centre and be used by the media to help portray a stark message in our battle against COVID.
Since this crisis began, MVIS have been working hard with new and existing customers to deliver solutions that help keep people safe. Amongst these customers have been Local Authorities from all over the UK, who are rediscovering the uses of our signs in these troubling times.
VMS were traditionally deployed by councils for traffic management, or for high profile events, we are now seeing our signs being deployed for new types of safety applications. With a locally focused approach against the virus, giving the authorities the ability to display information to lots of people quickly is a highly important part in the fight, especially since at this stage, one of the best weapons we have against it is information.
The VMS-C, our largest VMS, was the choice for this task. From the order coming into MVIS, we had 7 units deployed in key locations in Bolton City Centre the next day. A week later, we were asked to deploy 3 more.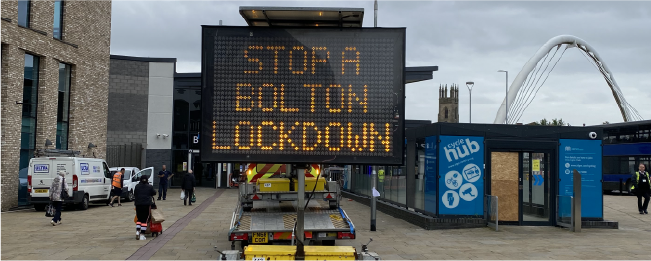 The VMS were used primarily to help communicate the changing rules. Our signs were updated remotely and easily to display messages that were in line with lockdown guidelines.
The iconic 'STOP A BOLTON LOCKDOWN' is a rallying cry from the council to encourage everyone to do their bit. It is for this reason, perhaps, that this was the most popular used message in the media reporting.
Days later, we began to notice the media were using our signs more in not only reports on Bolton, but also other COVID related news. It seems as if the media too have identified that our VMS are great at conveying important messages to the nation.
Our signs hit national and international news, showing the world just how powerful VMS can be.
---
For more information about how our solutions can help you, please contact us via our contact form.
Alternatively, you can call us on 01629 580 570 to speak to one of our friendly team, or you can email us via sales@m-vis.co.uk.
---
You can see more of our signs in action by following the links below: