Crowd control & information solutions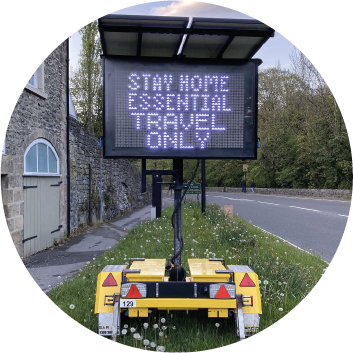 MVIS delivers portable variable message signs (VMS) and intelligent transport systems (ITS) solutions that keep drivers and pedestrians updated about COVID-19 guidelines.
Our solutions are effective answers to many safety problems that have arisen due to COVID-19. Serving a wide range of industries, MVIS have taken a key role in the fight against COVID, especially during a time when information is one of the most powerful tools we have to combat it.
We offer solar powered ITS products – including portable variable message signs (VMS), portable CCTV, portable ANPR and data collection solutions that are secure, adaptable and cost effective.
They don't require any civils, external power or communications source and can be reconfigured quickly and easily in response to the ever changing situation.
Wide range of applications including:
Car park management
Wayfinding
Crowd control
COVID-19 Information strategy
Safety notices
Queue management
COVID Testing & Vaccine traffic control
All our products are manufactured by sister company Bartco UK and both companies have achieved the following accreditations:
ISO 45001:2018 Health and Safety Management
ISO 9001:2015 Quality Management
ISO 14001:2015 Environmental Management
---
You can read more about how our solutions have been used to help during the COVID-19 pandemic on the COVID section on our website which includes industry guides, solutions and news.