MVIS' COVID-19 ITS Support Packages have been developed to assist local authorities with managing and communicating their COVID-19 Tier status to pedestrians and drivers.
Packages are recommendations only and can be adapted to meet the requirements of your local area.
---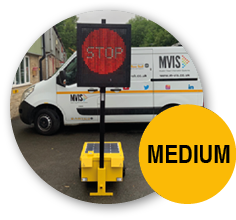 Tier 1
Ideal for urban areas and pedestrians, the HD Compact VMS is our smallest portable VMS unit. The bright, red and white LED display boasts a 20mm pixel pitch and makes an impact anywhere.
---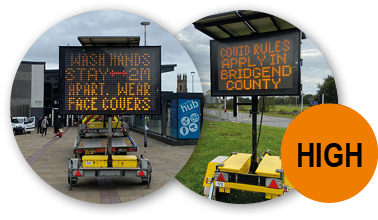 Tier 2
Featuring a 5-colour LED display for text or pictrograms, the VMS-A and the larger VMS-C are ideal solutions for communicating your area's COVID-19 policy to residents.
Versatile and requiring no external power source, our solar powered, portable VMS range boasts the highest quality LEDs and are known to be reliable solutions within the industry.
Messages can be updated remotely by your team or ours, via a web-based portal that can publish changes in seconds, allowing you to respond to the situation as it changes.
---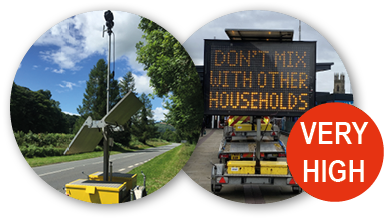 Tier 3
The addition of portable CCTV allows you to have eyes on the ground without having to physically be present.
The visible presence of CCTV is well known to influence behavior and help enforce rules.
When used in conjunction with our VMS, these units create a surveillance and feedback solution that can be used to monitor driver / pedestrian movement and identify high risk areas without having to be on-site.
Our trailer-mounted CCTV system incorporates Pan Tilt Zoom (PTZ) and the latest video technology, delivering excellent frame rates – even in poor signal areas.
---
For more information about our solutions or if you would like to know more about how you can use our products to help with communicating information to the general public, please contact us via our contact form.
Alternatively, you can email us via sales@m-vis.co.uk.
---
See our other COVID-19 Solutions: